Customer support is crucial for any company to build customer loyalty. A customer support rep deals with complaints and questions customers have regarding the products or services they purchased. For example, they explain how the product works, if precautions should be taken, what the terms of the guarantee are, arrange a technician to repair or replace a defective product, and give customers information about the products and services. In short, your customer support team is the face of your company, interfacing with your product development, R&D, sales & marketing, and financial departments.
As seen below, three-quarters of customers prefer to get customer support over the phone. This means that the availability and knowledge level of your customer support staff is crucial. That's why more and more businesses want to outsource.
This block contains unexpected or invalid content.ResolveConvert to HTML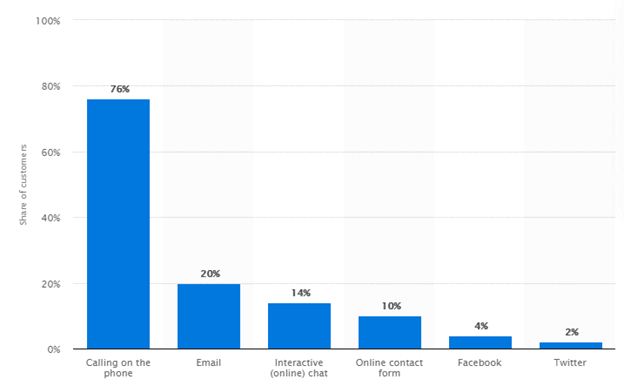 (Source: Statistica November 4, 2020)
Reasons to opt for outsourcing your customer support:
Ability to scale up quickly and efficiently
Companies usually do not grow at a steady pace. To handle the request and issues of a fast-growing customer base, a professional company that trains and deploys high-quality staff is your best option. Especially when you operated internationally and need customer support in multiple languages, outsourcing saves you the headache of recruiting employees in other countries. Overall, this will reduce the wait time for customers who have a complaint or need help with the purchased product or service, first-time callers who need information, customers trying to make a purchase, etc.
Easier to assess success
The success of a customer support rep is often measured in terms of revenue earned per call (ARPU), money spent, and number of calls that were completed within a certain timeframe.  With an outsourced team, it's easier to measure success, since you will have greater control over the whole process.
Increased efficiency
Outsourcing your customer support is highly efficient. Research shows that in-house customer support is on average 50% less efficient than outsourced customer support. The reason is that customer support reps must have in-depth product knowledge and great people skills, and be able to work long hours as well as peak hours, often catering to different time zones. Furthermore, when your in-house customer support is unable to solve issues and answer questions in a timely manner, there will be a spillover to other departments that have to step in.
Substantial cost savings
Especially when your company uses chat for customer support, you need skilled staff that will be able to invest long in hours in helping customers online. Due to the nature of chat support, the physical location of the customer support team is irrelevant. Since customers want a company to be available, contactable, and responsive 24/7, outsourcing is the only cost-effective way to go. Saving on HR efforts and operation costs are two other factors that will boost your bottom line.
Harnessing expertise
Hiring and training qualified staff is tedious and time-consuming process. Once hired, a customer support rep who does not work out creates additional headaches. Measures need to be taken to keep the customer experience (CX) high, ranging from (re)training to replacing. If a member of the outsourced team does not work out, it will be the company you outsourced that will find and train the replacement. Furthermore, if you change your business focus, enter new markets, reach out to new types of customers, or add new products and services to your offering, it will be easy to ask for additional trained and skilled staff.
FINAL THOUGHTS
To conclude, outsourcing 24/7 inbound and outbound customer support is a great option for businesses of all sizes, whether your business is a startup, an SMB/SME, or a major corporation. By choosing Prosperio, you can be sure that your customer support will align across the board, also regarding quality and costs.